ADVERTISEMENT
Magic Mountain Lodge
Magic Mountain is on the private nature reserve of Huilo Huilo in Chile. You can stay in any of its thirteen magical rooms that overlook the jungle. The lodge was made with local labor and materials on land dedicated to preserving Patagonia's fauna and biodiversity.
You can stroll on the suspended rope bridge and take in the extremely magical sight. There are also hot tubs made of gigantic tree trunks. Now these pictures of a mountain with lush greenery, featuring storybook castle windows and cascading little waterfalls, look like they must be taken from the set of a movie or they've been Photoshopped. However, Magic Mountain is real.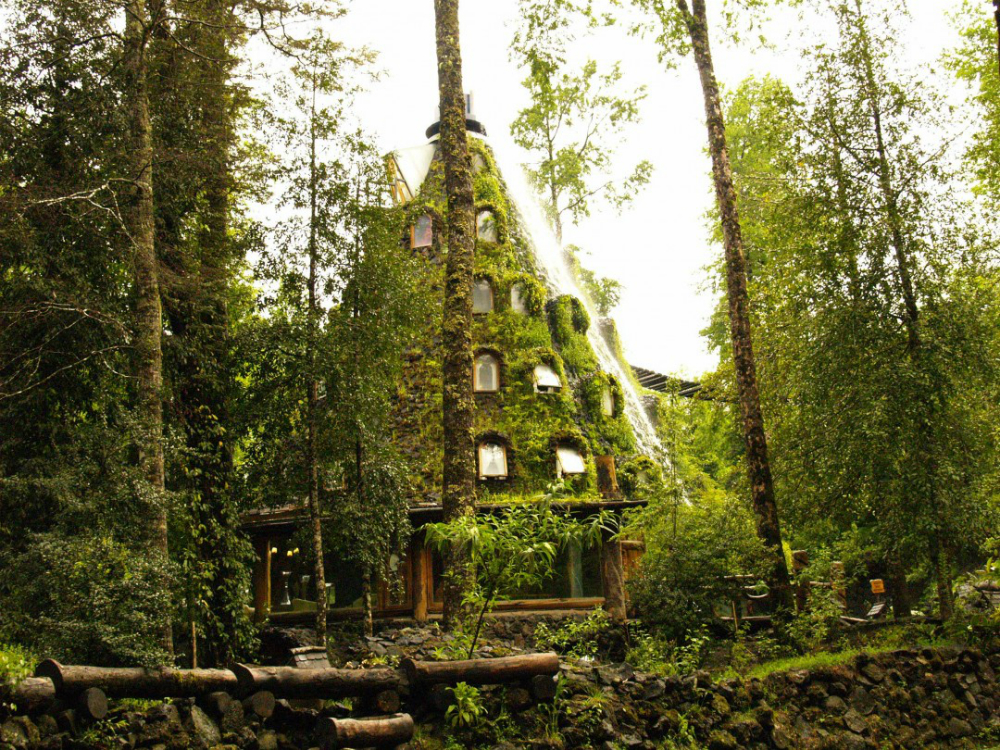 Bali, Panchoran Retreat
Linda Garland is an architect who spent most of her career creating tropical resorts around the world. She then settled in a river gorge in Bali and alloted most of her time growing all sorts of bamboos on her 25-acre property, becoming an expert on the plant.
Then her luxurious estate became a sort of architectural experiment, which is now open to the public as Panchoran Retreat and has been attracting guests from all over the world. The highlight of this wonderful getaway is a hanging lounge area just above the river.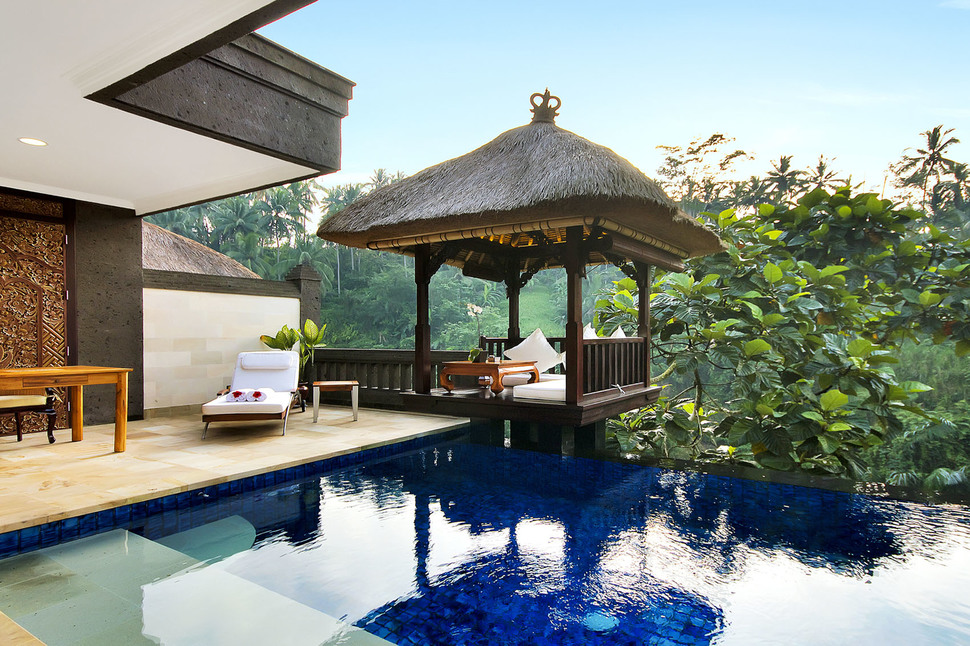 Costa Rica, Lapa Rios Ecolodge
Set on a private nature reserve among 1,000 acres of Central America's last remaining lowland tropical rainforest, Costa Rica's Lapa Rios Ecolodge lets you relax in a private bungalow made of sustainable wood and bamboo. The Lapa Rios was the first hotel to receive five-leaf status from the Costa Rica Tourism Board's Certification for Sustainable Tourism.
The rooms feature a private outdoor deck with a hammock and rain-style outdoor shower. They are also open-air with screens so you can experience all the smells, sounds, and sights of the seaside environment.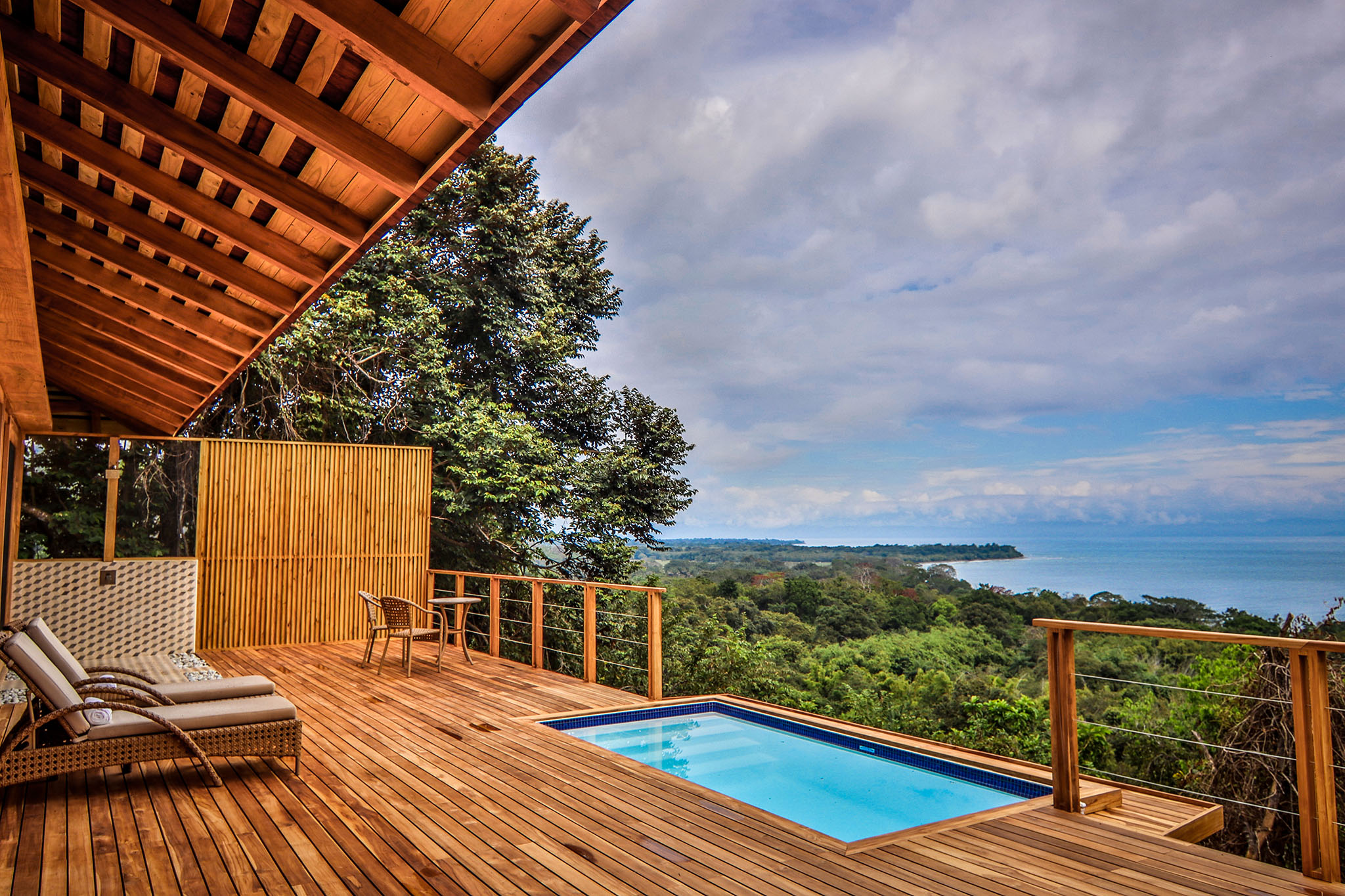 Michael Jantzen's North Slope Ski Hotel Fantasy
Michael Jantzen's ski resort is powered by the wind and sun and has a built-in 400-foot slope leading to the snowy hills straight from the peak of its roof. The windows of the ninety-five rooms look out onto Aspen, Colorado, from high up on a mountain, and also help passively heat the structure. This intriguing concept for an eco resort hasn't been built yet.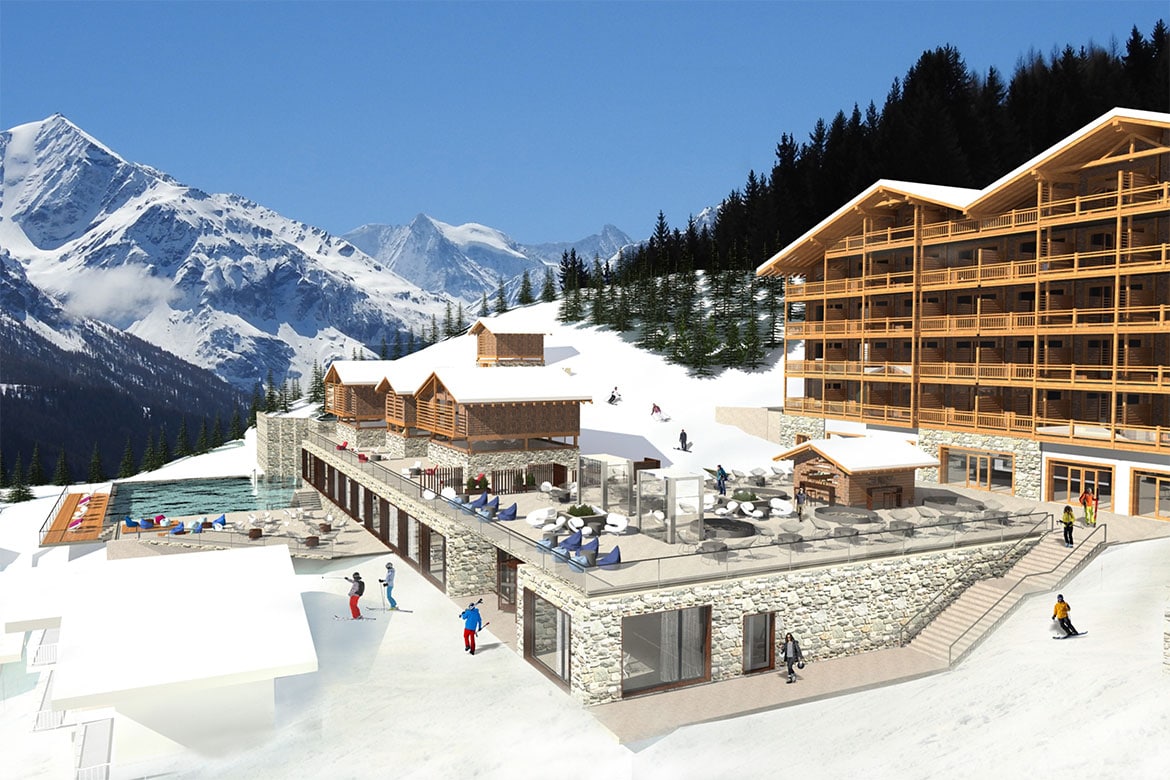 India, Himalayan Village
This Himalayan Village is located in the Northern mountains and is also an eco resort. Due to its location, recreational activities like rock climbing and backpacking are readily accessible. You can also enjoy the traditional Indian cuisine and just relax inside the cottages. It also highlights the traditional culture of the Pahari people.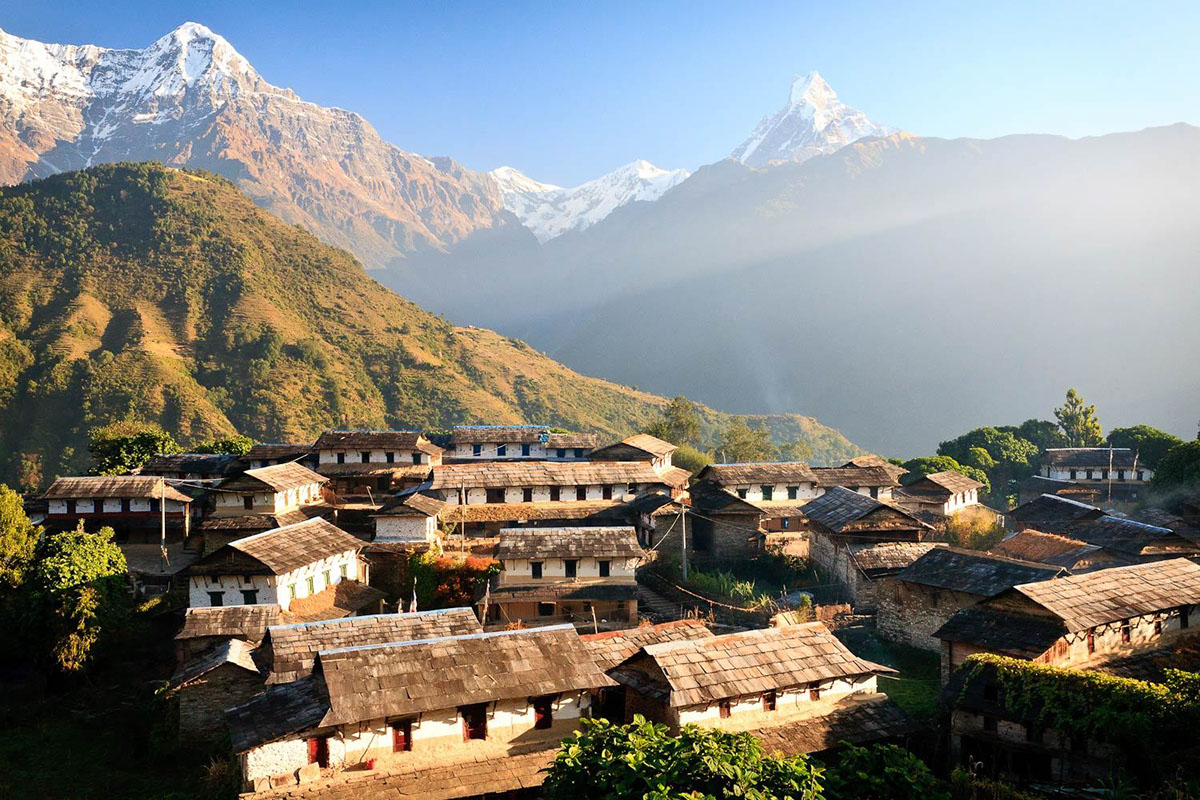 China, Songjiang Quarry Hotel
A nineteen-story complex, complete with a massive waterfall, will soon be erected in a formerly abandoned mining quarry descending 100 meters from the surface of the earth and will be named Songjiang Shimao Hotel. Photos have shown the progress of the construction, but it'll probably take a year or two before it's finished. The whole resort will get its energy from geothermal sources, and the pit will be turned into an artificial lake.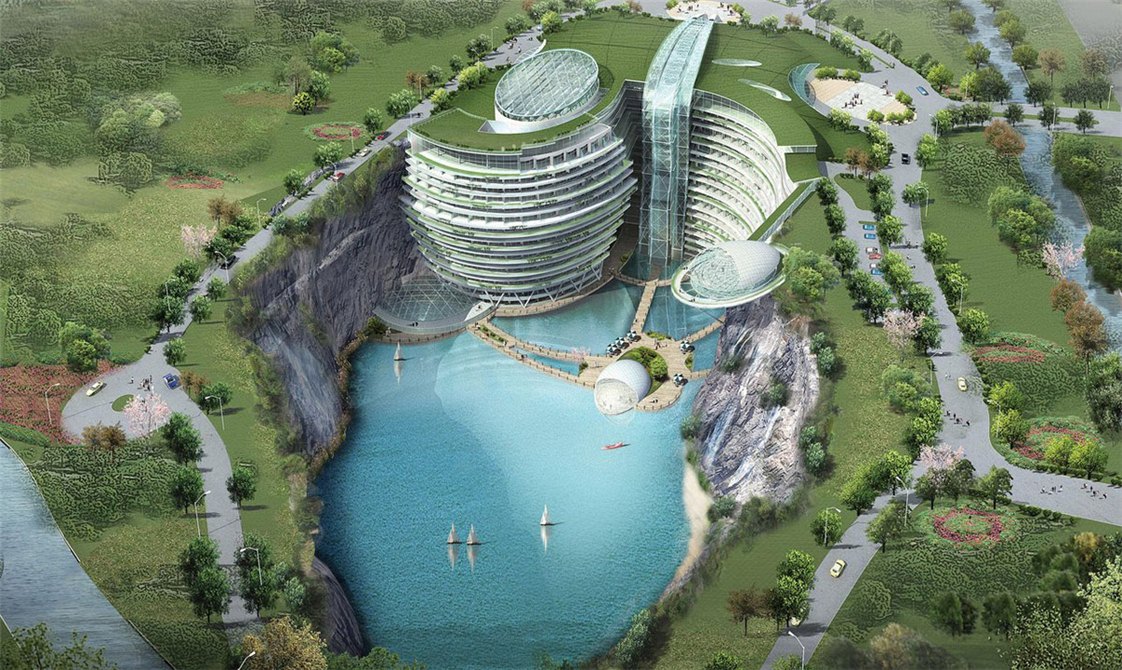 Thailand, Soneva Kiri Eco Resort
This eco-friendly resort in Koh Kood, Thailand, is just one of many cool mini structures made of local sustainable materials like bamboo that can be found within the six-star destination. A cantilevered bamboo dome inspired by manta rays cover The Den, a recreation area just off the Gulf of Thailand, where adults can watch movies and kids can climb around in play structures. It's a nest-like restaurant that dangles from the side of a tree at Soneva Kiri.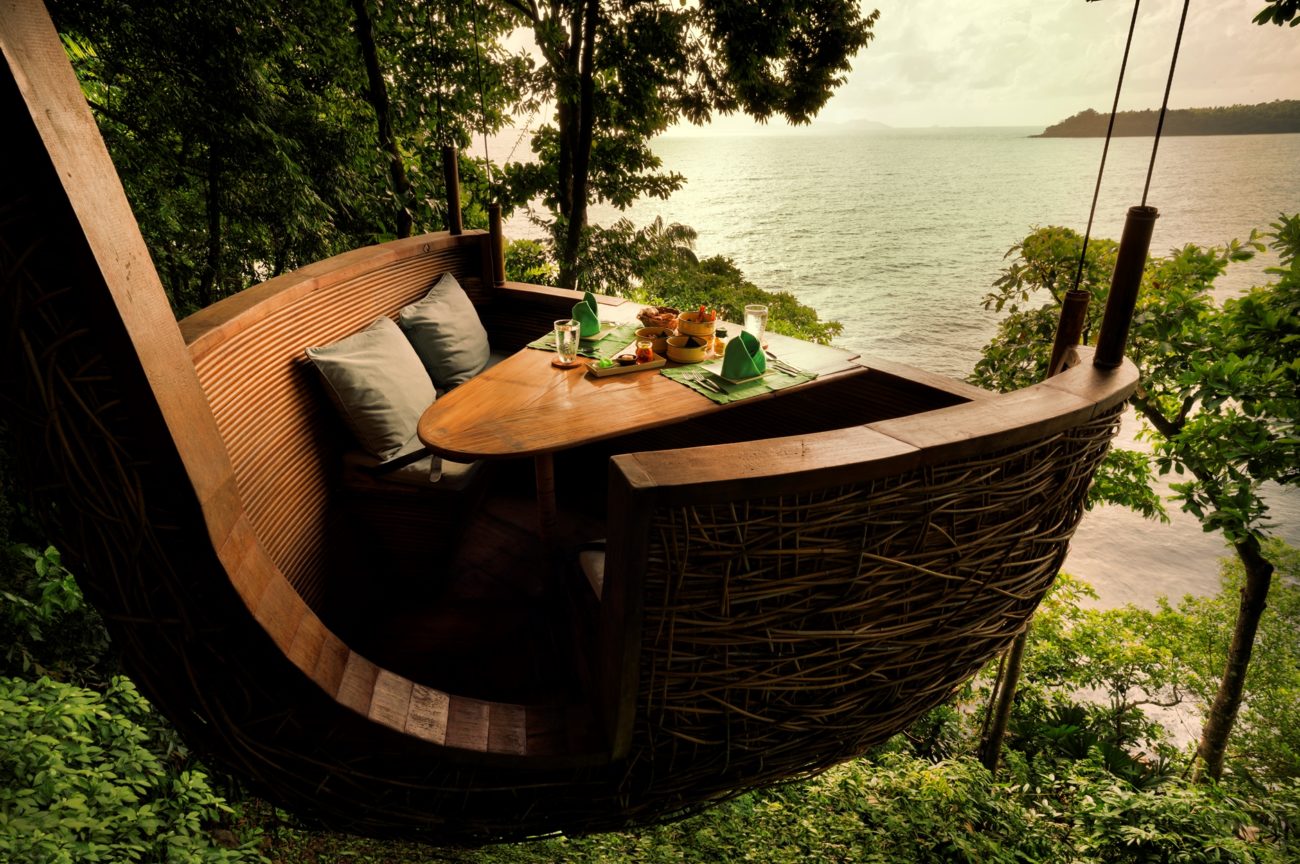 ADVERTISEMENT
---
---