ADVERTISEMENT
Brad Pitt
Former superstar couple Brad Pitt and Angelina Jolie fell in love with the Château Miraval in France after spotting it from a helicopter while flying over the region. The estate consists of 1,200 acres, 50 to 60 of which are devoted to a vineyard, while the residence boasts 35 rooms, pine forests, olive groves, massive gardens, fountains, a chapel, and even a mote. It was here in 1979 that Pink Floyd recorded the celebrated album The Wall. After moving in with their six children in 2008, the celebrity couple set about transforming it to their tastes, with plans to add a gym, spa, huge wine cellar, home theater, video game room, indoor and outdoor pools, a dirt bike course, and even a helipad. In 2013, Brangelina started producing their own brand of rosé and white wines from their own vineyard, in partnership with a famous winemaking family, the Perrins.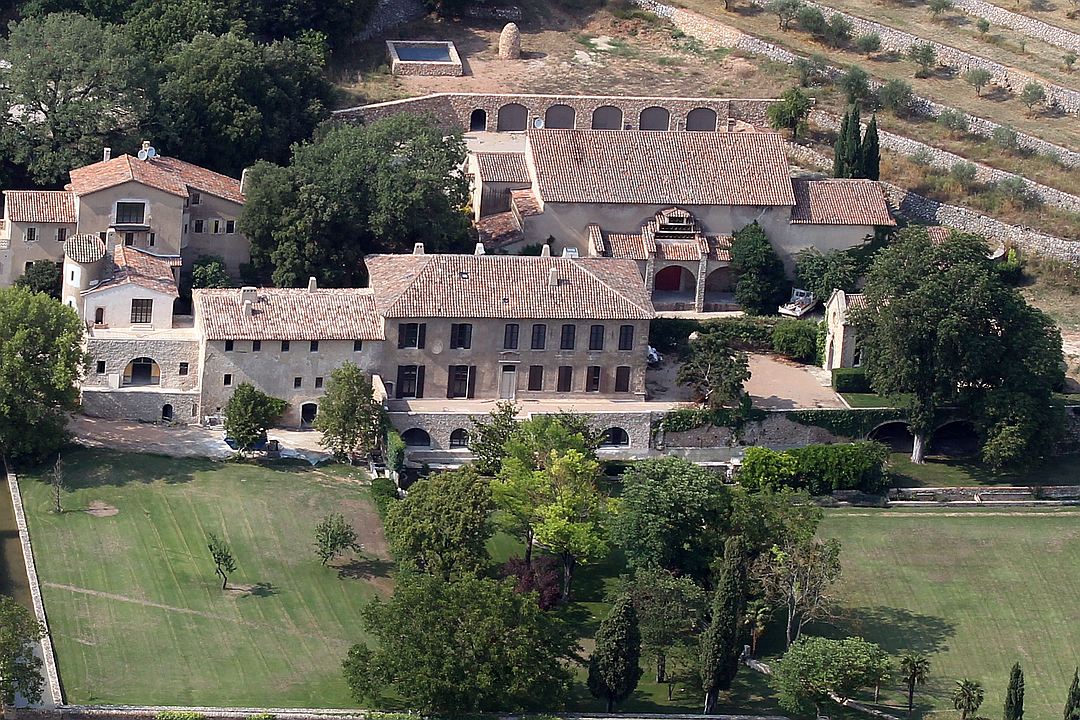 Angelina Jolie
Being one of the biggest names in Hollywood, Angelina is pampered in a 2.1-acre estate with views across the city and the ocean. Located in Los Feliz, California, the six-bedroom and ten-bathroom mansion features a gym, library, and pool, and the house is fully surrounded by manicured trees, rose gardens, and rolling lawns so she and the kids can truly relax without the fear of being spied on by the neighbors. There is also a separate pool house, a teahouse, and a self-contained guesthouse. She and former husband Brad Pitt owned a huge portfolio of property together prior to their divorce, including homes in Los Angeles, New Orleans, New York, Spain, and France.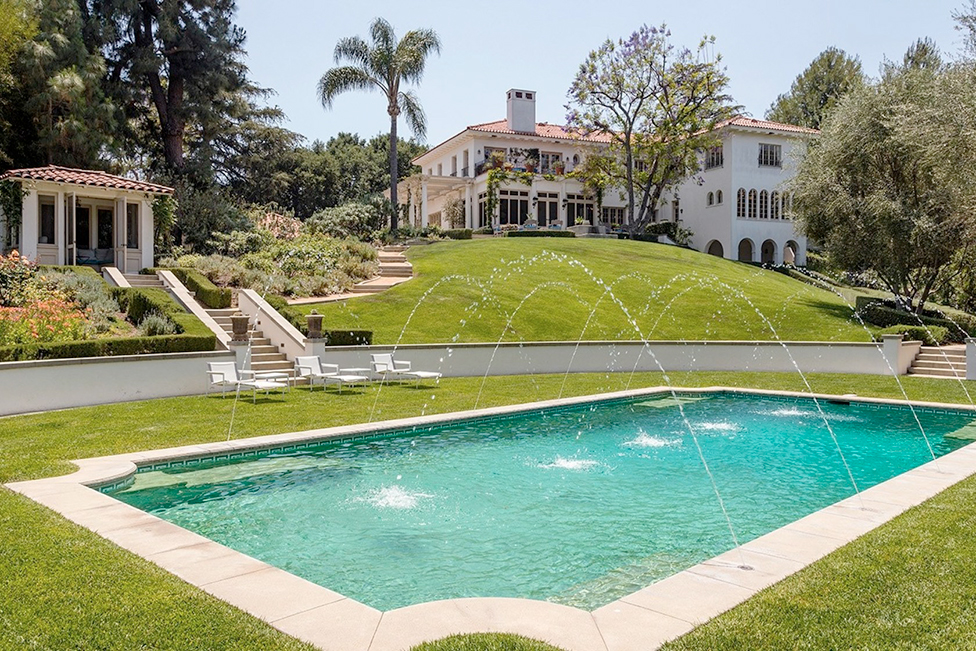 Jennifer Aniston
The moment the Friends actress saw the big, proud, dramatic, fourteen-foot-tall front doors, she knew it was hers. The 8,500-square-foot property includes four bedrooms, six bathrooms, a guesthouse, a game room, a 24-seat dining room, and a kitchen complete with a pizza oven and a wine cellar. It also has city and ocean views sitting on almost two acres of land. The star loves wood, stone, and bronze in the house's interiors, as well as Abstract Expressionist paintings, hand-painted wallpaper, and silk rugs. Outdoors, garden designer Marcello Villano and landscape architect Anne Attinger reorganized the alfresco spaces as a series of interconnected outdoor rooms, terraces, and Asian-inspired pocket gardens with a stunning pool surrounded by a teak deck.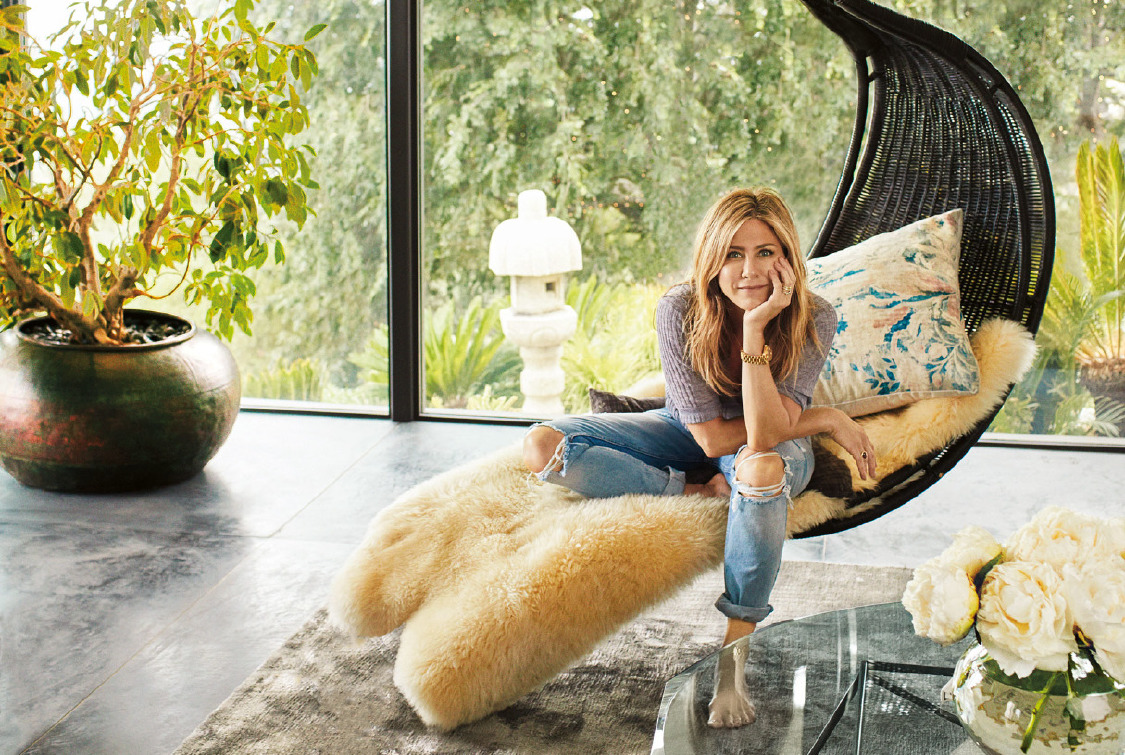 Will Smith
Will Smith is king of Calabasas, California, with his 150-acre property. Designed by Stephen Sameulson, the entire place took 7 years to build! Inside the Smith residence, you will find nine bedrooms, a meditation lounge, a pool room, a Moroccan-themed home theater, and a recording studio. Outside you will see a basketball court, volleyball court, tennis court, a built-in trampoline, and an outdoor pool. There is also a large garage that can fit eight cars. The property features its very own lake, complete with a small gazebo in the middle. Although this is their main house, where they spend 99 percent of their time, the Smiths also own several other properties including two more homes in California, one in Pennsylvania, and a Hawaii home they sold back in 2011.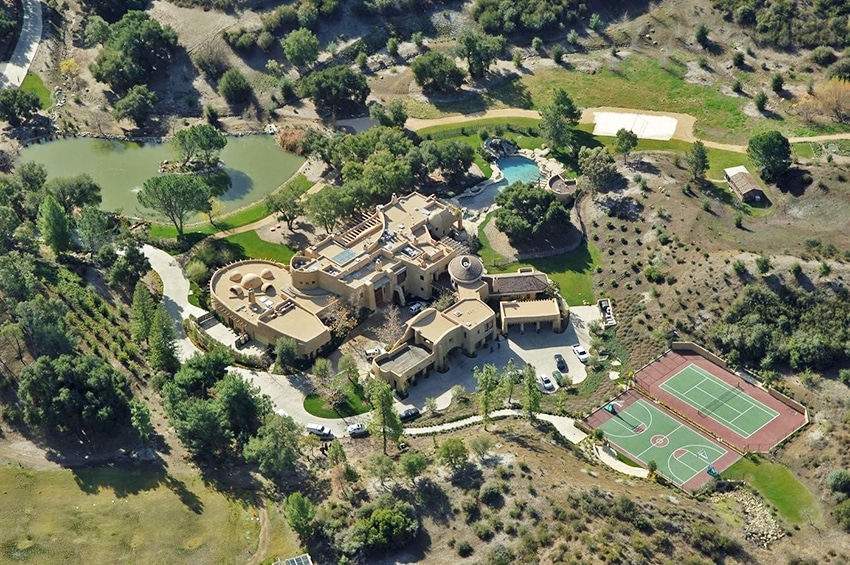 Ellen Degeneres
The queen of daytime talk has bought and sold over twenty real estate properties since 2003 with her wife, actress Portia de Rossi. One of her latest purchases was a Beverly Hills mansion from Maroon 5 frontman Adam Levine and wife Behati Prinsloo. The Tudor-style home is a 10,376-square-foot abode with five bedrooms, twelve bathrooms, and three floors. Out back is a wood-fire oven, outdoor dining space, and lounging area situated around a fire pit. Down a short set of stars is an oval-shaped swimming pool and yet more lounge areas; beyond that is a well-landscaped lawn and a tennis court, which hearkens back to its previous owner, tennis player Pete Sampras.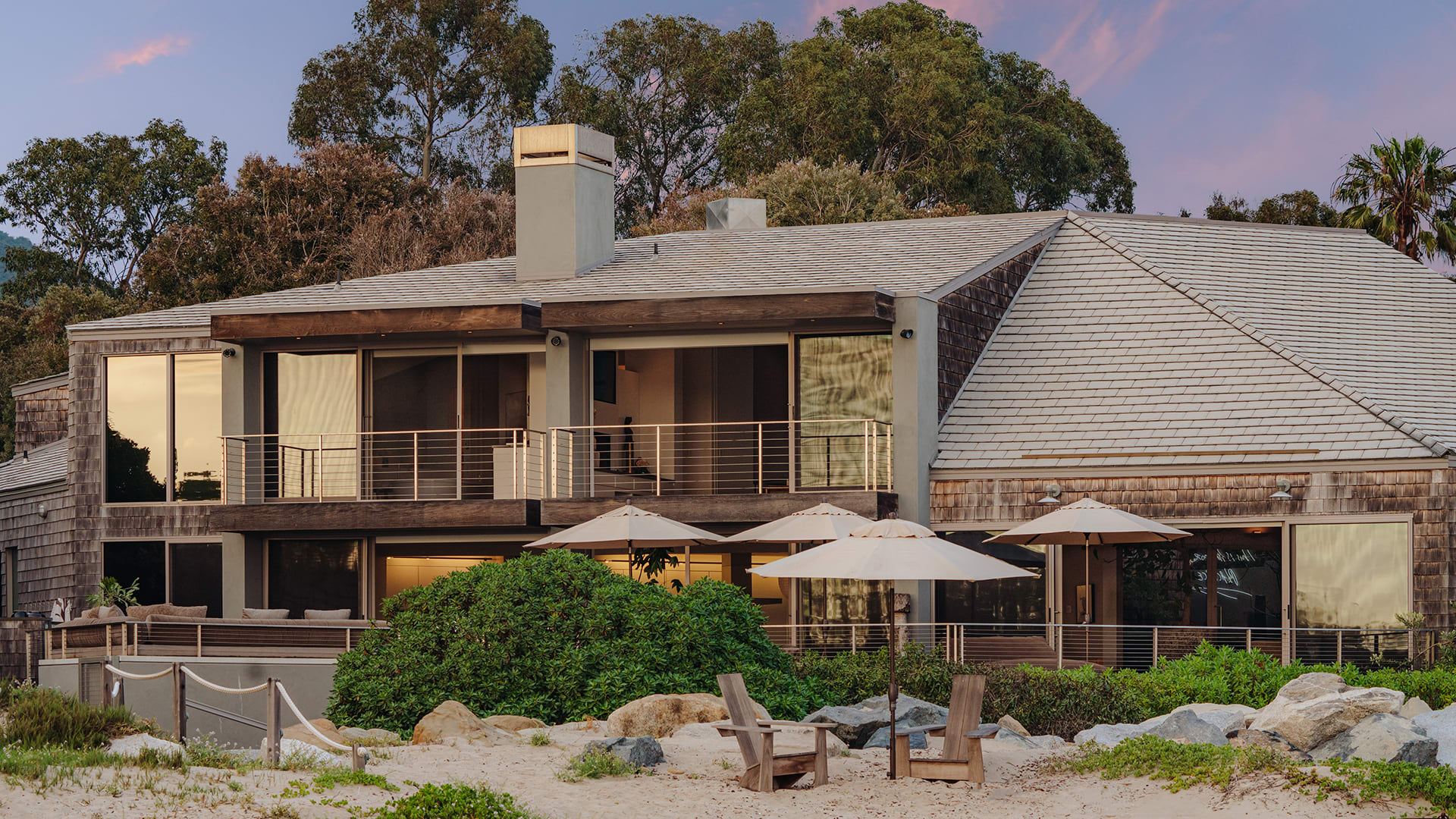 Tiger Woods
Tiger Woods owns a massive mansion on Jupiter Island. The ultra-exclusive island is home to 907 seriously wealthy residents, and Woods owns a 12 acres oceanfront property in the area. Because he is Tiger Woods, the home boasts a 3.5-acre golf course, a tennis court, and a full gym. The estate also includes an oxygen therapy room, a fitness center, a basement wine cellar, an elevator, and several swimming pools. According to some reports, Tiger Woods' yacht, the Privacy, can be docked on the intracoastal side of the house, if Woods so chooses.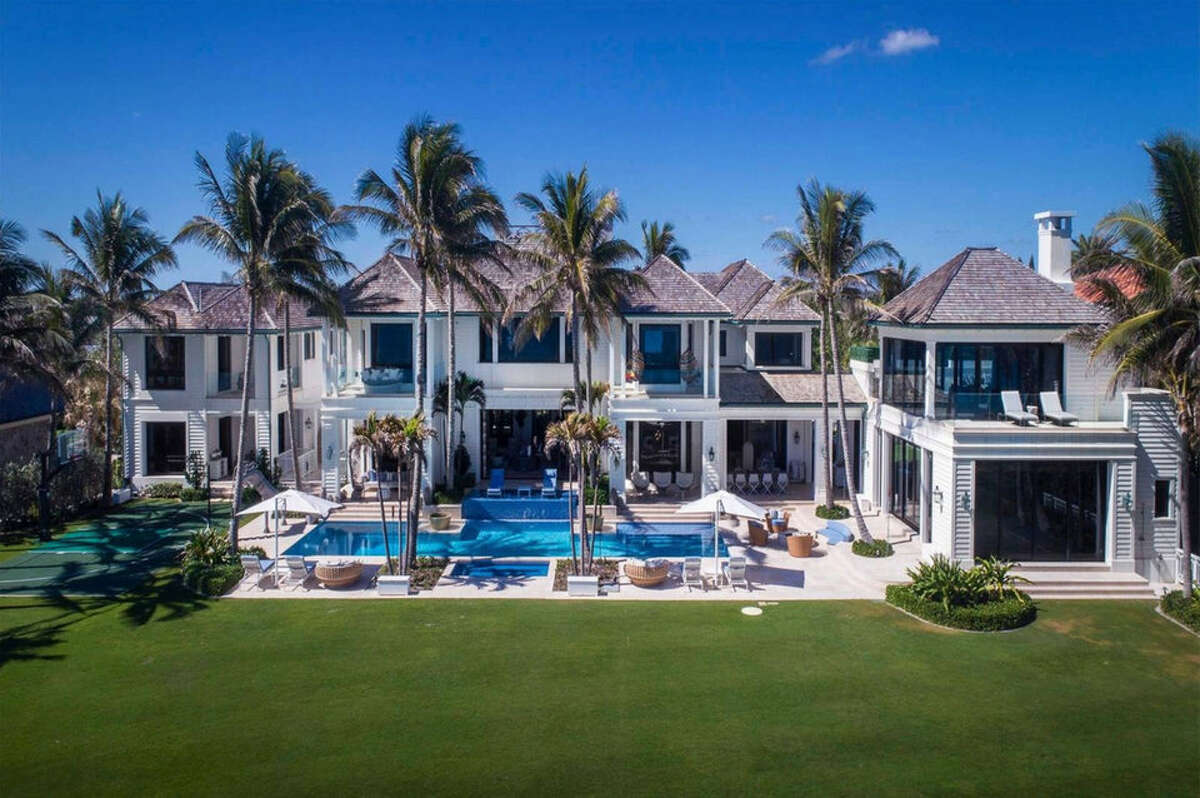 Celine Dion
Celine Dion's home was a 13-bedroom, 14-bathroom mansion located in the island of the wealthy: Jupiter Island. Yes, she was Tiger Woods's neighbor. But with her entire property sitting on six acres of land, can you really call someone living in the middle of that expanse a neighbor? Dion's Bahamian-style 10,000-square-foot home boasts a covetable 415 feet of private beach, which is the shoreline of the Atlantic Ocean; a tennis court; guest house; a massive water park; golf range; pool house; and beach house. The water park itself is out of this world. The pool system requires 500,000 gallons of water and includes two swimming pools, two water slides, a lazy river, water cannons, and a tree house.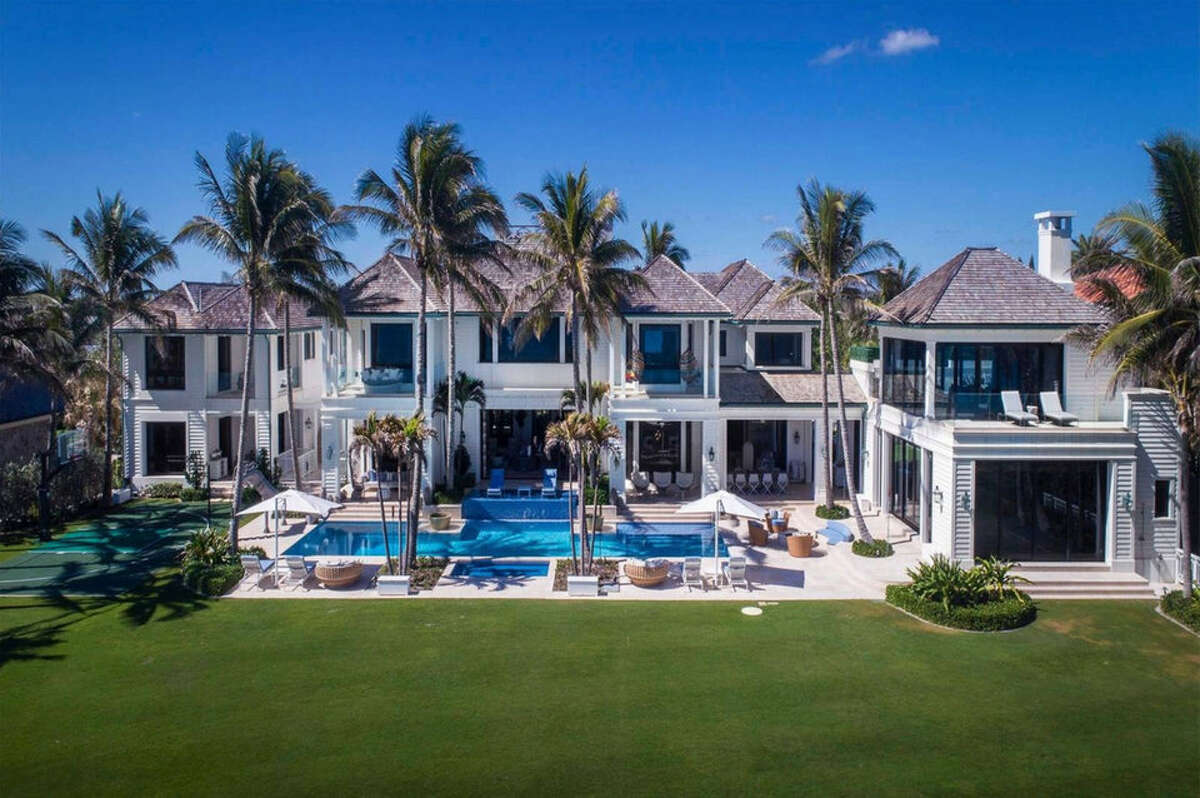 ADVERTISEMENT
---
---